Rob Lee, Director of Marketing, talks about how RBR is driving cost- and climate-friendly commuting.
My morning commute just got a lot more interesting. Depending on traffic, it takes me about 10 to 15 minutes to drive from my home, just outside Kanata North, to the RBR office on the edge of Canada's largest technology park. Lately, I've switched from driving to riding my bike. The best part? RBR pays me to do it!
As gas prices go up, commuting by car is getting expensive. Add that to growing inflation from post-pandemic demand and lingering supply-chain issues, and many families are seeing a substantial increase in their cost of living.
In April, RBR decided that something needed to be done. Much of our work supports climate change research, and we strongly believe in doing our part to alleviate the crisis. Simply subsidizing commuters' fossil fuels wouldn't do; we needed to put together an incentive program to encourage our team to use alternative ways to get to work.
While some companies are switching to hybrid or completely remote work models, RBR proudly remains an office-based company. Our strong work culture, grounded in a common set of values and a shared sense that we are making a difference in the world, includes a preference for being there in person. Our teams thrive on group meetings around whiteboards and long sessions huddled around equipment, trying to make our products even better. Developing and manufacturing oceanographic instruments and sensors works best when our operations and R&D teams have access to our labs and infrastructure. The in-person culture is so strong, even on Work-From-Anywhere-Wednesdays, most of our team still find themselves working together from the office.
RBR recently launched the Greener Commuting Incentive Program to encourage more sustainable commuting. The program provides incentives for employees to shift from single-person car commutes to carpooling, public transit, or biking to work. We provide reimbursement for transit passes, $50 per week for gas for groups that carpool, and an incentive of 50 cents per kilometre for those who ride their bikes. Employees that continue to commute by car are eligible receive 10% (up to $10,000) of the total cost of a full-electric vehicle and 7.5% (up to $7,500) of the total cost of a plug-in hybrid vehicle. We also provide free charging stations right outside our office.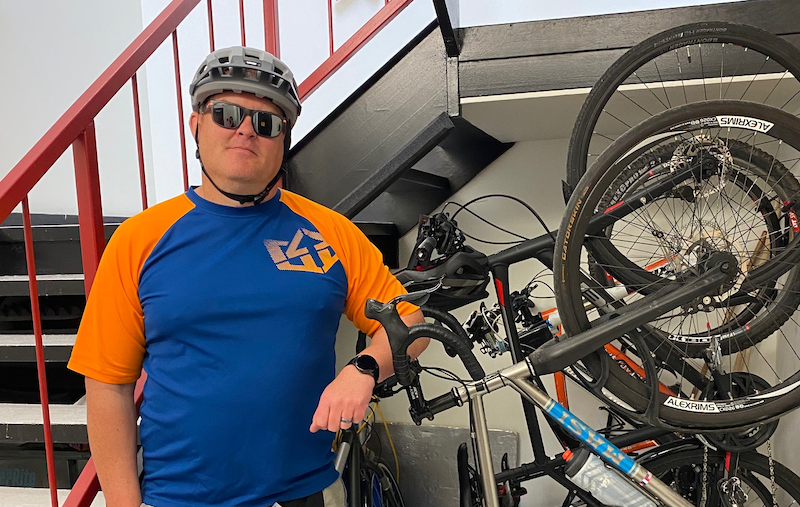 Technical Support Manager, Mark Stacey, arriving at the RBR office.
All of the incentives have been well received, but it's the bike-to-work mileage allowance that has had the largest impact. Since rolling out the program, 24 RBR employees have biked over 3000 kilometres, with the longest commute being a whopping 27 kilometres each way. You can check out our progress on our public Tableau Viz. Canadian cars are on average some of the worst polluters in the world, producing a little over 200 grams of CO2 per kilometre, so the potential impact of all of that biking is over 600 kilograms of CO2 that would have otherwise gone into the atmosphere.
No one is getting rich on the incentive, but if you ask the riders they'll tell you the financial benefits go beyond the mileage allowance. For example, if I drive to work every day, I burn just over 350 litres of fuel per year. At about $2 per litre, that's $700 per year, not including the normal wear and tear on the vehicle. Even cutting that in half makes a difference.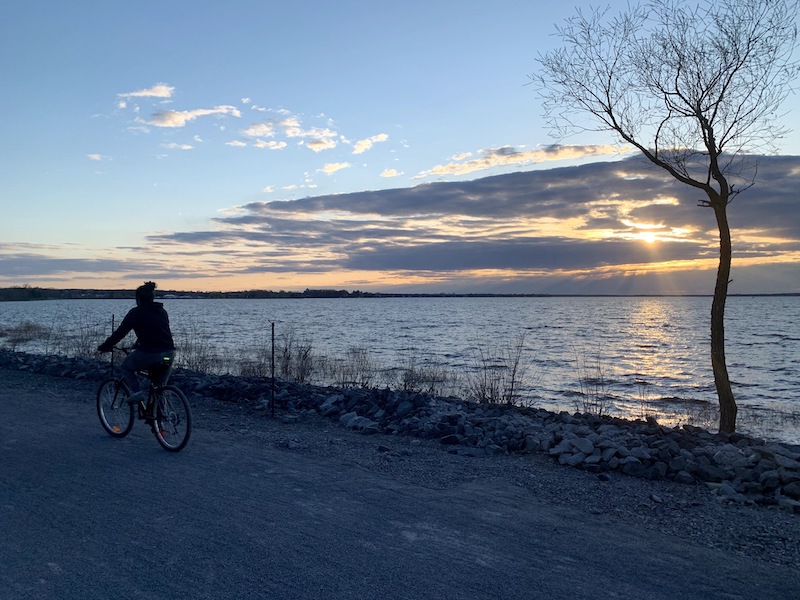 Engineering Technologist, Rachana Chaudhari enjoys her ride along the Ottawa River.
Environmental and financial benefits are just the start. Health Canada recommends that adults spend at least 2.5 hours exercising each week. My daily 25-minute commute covers that and more, increasing my heart health and lowering my risk of diabetes and cancer. In addition, the ride to work actually improves my mood. It gets my blood flowing and I am alert and ready to go when I reach the office. The ride home helps me decompress, letting me be more present when I see my family at the end of the day.
June is Let's Bike Month in Ottawa. This annual campaign organized by EnviroCentre encourages people to try cycling as a fun and healthy transportation alternative. Here at RBR, it's just another opportunity to up the number of people who ride to work, and we're excited to see the impact. No matter where you work, we hope that you'll bike in at least a couple of times this month – and if you want to get paid to do it, join the RBR team.