Transit Cases
New RBR instruments are delivered in protective, reusable hardshell transit cases. These cases allow your instruments to be safely transported to field sites, returned to RBR for calibration and servicing, or stored when not in use.
Our top priority is your success, and our experience has shown that an investment in a protective transit case is the best way to ensure the reliability of your RBR instrumentation. That is why one or more cases are included with every instrument quote.
Transit cases include:
Rugged hardshell transit cases sized to the instrument configuration and quantity per case
Custom cut foam designed from 3D models of specific instrument configurations
Support kit including O-rings, desiccant, silicone grease, and any required tools
RBR branding for ease of identification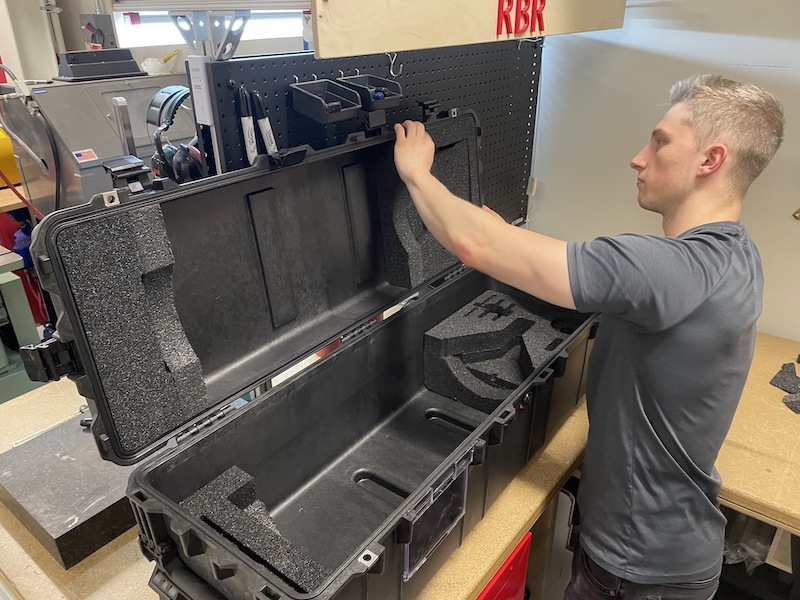 Building your custom transit case
Step 1: Case design
We always select cases and prepare foam to match the specific configuration of your instrument order. When a new case design is required, we first create a 3D rendering of the instrument, complete with all connected sensors and accessories. Then we use this model to size the case itself and create the foam design.
We then convert the foam design to a CNC program file before moving into the shop to cut and prepare the foam.
Step 2: Foam preparation
The case foam is then loaded into a CNC machine and cut to the specifications of the design. The fresh-cut surfaces are first cleaned with compressed air and then heat treated to stengthen them.
Completed foam inserts are then tested for fit, and glued into the plastic case in preparation for packing and shipping.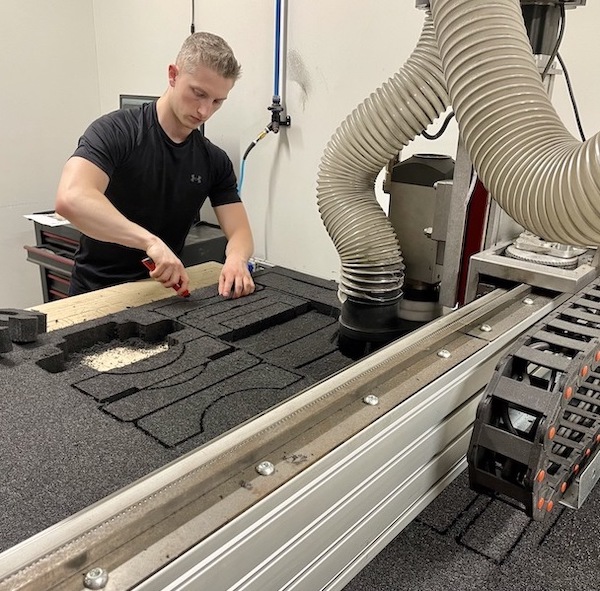 Step 3: Instrument packaging
We plan the process so the case design, foam cutting, and final assembly are completed when your instrument order is ready to be shipped. Both are delivered to our shipping department, where your instruments, sensors, and accessories are carefully loaded and the case or cases are prepared for shipping.
FAQ
Q: I have shipped instruments globally for years in cardboard boxes without any problems. Why do I need to pay for the transit case?
A: For every success story, there is a story of instrument failure due to rough transit. The results are costly for both the customer and RBR. In order to manage this situation and provide the best customer service to a broad range of users, RBR will ship new instruments in the appropriate transit case.
Q: I have too many cases in storage, and I don't want any more.
A: After decades supporting oceanographic research, we understand this concern. RBR's priority is that instruments are delivered in excellent condition and ready for deployment.
Q: I need to know transit case dimensions and weights before order for other purposes (customs clearance, freight forwarding, etc.).
A: Please contact your RBR representative to discuss your requirements. Our best estimates will be provided.
Q: Can I re-use an existing RBR transit case?
A: Please contact your RBR representative to discuss your requirements.
Q: What about real-time sensors and other equipment?
A: RBR will select the appropriate packaging, including cardboard boxes, for shipment of these items. Packaging fees still apply.