RBR is at the service of our customers – and their success is our overriding goal. Our remarkable support team is an integral part of achieving this goal. But who are the people behind the emails, phone calls, and video chats? We sat down with the team to find out what they're passionate about, and to discuss how they can help you, our customers.
Meet the team
Sarah Akinyele, technical support engineer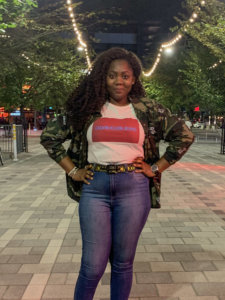 An environmental engineer with a passion for oceanography, Sarah Akinyele provides technical support to our customers. She's recently gotten into podcasts – her current favourite is Trevor Noah's Daily Show – and is always on board for a games night. In her spare time you'll most likely find her out on day trips or watching (and rewatching) her favourite TV shows. She is also a big fan of concerts and live music, and will catch any show she can.
Joyce Fournier, service coordinator

Joyce Fournier has been with RBR since we were a team of only 15 people, working out of a handful of town homes in Ottawa. Her official job title is "service coordinator," but she's been known to wear an assortment of hats when needed. She loves helping others, being outdoors with her family and puppies, and spreading joy through a smile (or "smile" mug when health guidelines recommend wearing masks).
Alexey Li, technical support engineer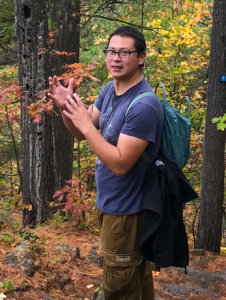 Alexey (Alex) Li is the newest member of the RBR Support team. A geologist by training, Alex moved to Canada from Russia just over 12 years ago. Before joining RBR, he did fieldwork in uranium exploration, worked in an isotope geochemistry lab, and was a data analyst at a seismology company. In his spare time, he enjoys walking in the woods with his family and playing touch rugby. He also loves birdwatching and mushroom picking.
Mark Stacey, technical support manager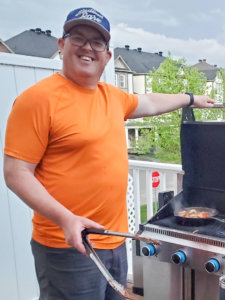 Originally from the UK and with a background in oil and gas, Mark Stacey has been in team manager and customer support roles for more than 20 years. At RBR, he enjoys being part of cutting-edge scientific measurements, and working for a company that puts our customers and their success at the very heart of everything we do. A passionate barbecuer, he'll fire up his charcoal grill rain or shine. He can also be found mountain biking when the weather is fair. A big fan of single track, his highlight trip so far was three glorious weeks of biking in Moab, UT.
What can the RBR Support team help you with?
The RBR Support team is a timely, concise, efficient, and knowledgeable resource for our customers. Phone support is available weekdays from 9am to 5pm ET, and we aim to respond to direct emails (support@rbr-global.com) and website form submissions within a few hours of receiving them. We also offer video call meetings – scheduled based on your time zone – as required.

Support tip – An easy way to access support is to submit your instrument logs and data files through Ruskin. Please connect your instrument to the software, navigate to "help>comment on Ruskin" and submit the form.
When contacting support, please provide as much information as possible regarding your deployment, environment, instrument questions, troubleshooting you've tried, and .rsk data files that illustrate what you need. Your instrument log files will be attached automatically when you send the form through Ruskin.
Scheduling and facilitating repairs, calibrations, and instrument upgrades
When an instrument needs to be sent in for repairs or calibration, we're here every step of the way with return merchandise authorization (RMA) support. You'll get assessment reports, corresponding quotes, and regular status updates while your instrument is with our service team in Ottawa. We work hard to ensure your instrument is returned in time for any upcoming deployment timelines whenever possible, including facilitating third-party sensor calibrations offsite.
Getting ready for instrument deployment
Not sure which battery to use in your instrument? Do you need new desiccant or o-rings? Wondering how to use Ruskin's mobile configuration to view your data in the field? Contact us anytime.
Ruskin data assistance
While we are unable to process the data for you, we are happy to assist with technical questions on using the software, setting up instrument configurations in Ruskin, understanding error messages, answering measurement questions regarding data interpretation, and recommending future deployment improvements.
Technical documentation
RBR has an extensive library of technical documentation for our products. Contact us for copies of your instrument's calibration certificates, instrument and software user guides, and more.
Remote instrument support
We can remotely assist with the following:
Wifi activation
Tide and wave upgrades
Twist activation
Firmware
Troubleshooting and general inquiries
If you cannot find the answer you need in our Frequently Asked Questions, please contact us. Our team is happy to work collaboratively with you to find a solution to whatever problem you might be experiencing.
Support resources