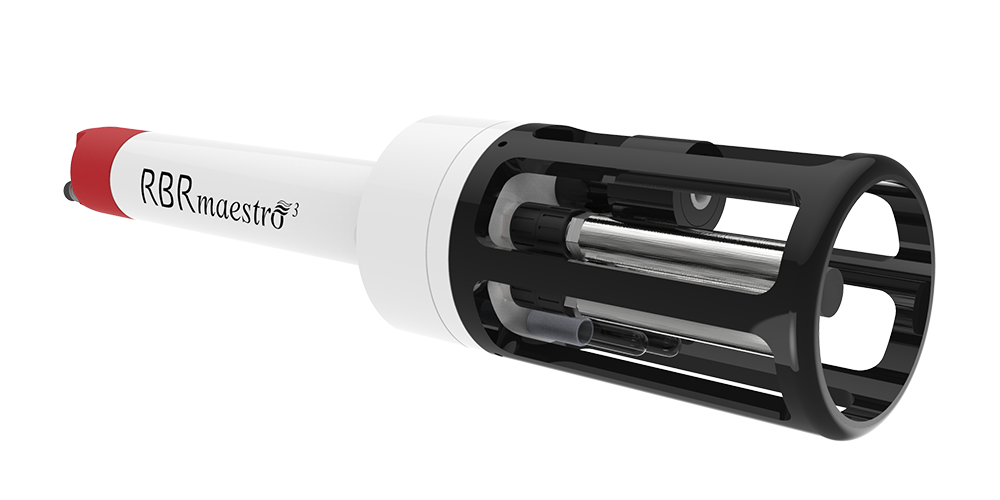 RBRmaestro³ | Multi-Channel Logger
Our most flexible, option-packed, multi-channel logger.
240M readings
Up to 16Hz sampling
USB-C download
Twist activation
Wi-Fi ready
Supports 3 to 10 channel combinations
Realtime communication with USB, RS-232, or RS-485
Available Sensors:
Conductivity, Temperature, Pressure (Depth), Dissolved Oxygen, Fluorescence, Nitrate, ORP, PAR, pH, Transmissance, Turbidity, Voltage, Water Sampler
RBR's multi-parameter, multi-channel loggers are designed to provide you with the flexibility to select the right combination of sensors for your water quality measurements. The choice of up to ten sensors can be integrated with the logger. The loggers are available in two configurations: one for autonomous deployment and one for water column profiling. The recorders can be equipped with data and power connections to facilitate remote access or remote data acquisition. There are a number of different sensors that can be used with the recorders, for example: Conductivity, Temperature, Depth, pH, ORP (RedOx), Dissolved Oxygen, Fluorescence, Turbidity, Transmittance, PAR, and others.
Features
Submersible, autonomous 24-bit data logger
16Hz maximum sampling rate
240M readings
Up to ten sensors in custom configurations can be integrated
Sensors include, Conductivity, Temperature, Depth (Pressure), pH, ORP(RedOx), Dissolved Oxygen, Fluorescence, Turbidity, Transmittance, PAR, and many others in any combination
C, T, D and DO are measured to WOCE standards
All calibration constants are stored in the logger
Re-calibration of many sensors may be carried out by the end-user under suitable conditions
8 AA cells
USB-C download
Optional RS-232 or RS-485 serial communication allows realtime operation over long cable links using the Ruskin application
Mooring clamps and cages are optional and rugged transit cases are recommended
Deep and shallow water versions
Features of the RBRmaestro³|fast (Profiling)
The |fast profiling version of the RBRconcerto logger includes all of the above features, plus:
8 or 16Hz maximum sampling rate options
Averaging
Thresholding capability (logger only samples while submerged or under specific conditions)
and optionally, a fast response dissolved oxygen sensor (Response: approximately 1 sec for 63% at 25°C)
| | |
| --- | --- |
| |fast8 or |fast16 sampling for profiling | |
| Wi-Fi communication | |
| External data and power connector with USB, RS-232, or RS-485 | |
Physical
Power
8 AA cells
Communication
USB-C or RS-232/485
Storage
240M readings
Clock drift
±60 seconds/year
Depth rating
Up to 10,000m – sensor dependent
Diameter
Configuration dependent
Length
Configuration dependent
Weight (air)
Configuration dependent
Weight (water)
Configuration dependent
Sampling period
1s to 24h (moored)
|fast8
1, 2, 4, 8Hz
|fast16
1, 2, 4, 8, 16Hz
Conductivity (up to 6,000m)
 Calibrated measurement range:
 0-85mS/cm. PSS-78 is defined up to 70μS/cm. Extended ranges are available.
 Initial accuracy
 ±0.003mS/cm
 Typical stability
10μS/cm/year
 Resolution
~1μS/cm
 Time constant
 Set by flow through cell. Cell length is 40mm.
Temperature
Range
-5°C to 35°C
Initial accuracy
±0.002°C
Resolution
<0.00005°C
Time constant
~1s (standard) or ~0.1s (optional)
Typical stability
0.002°C/year
Pressure (Depth)
Range
20 / 50 / 100 / 200 / 500 / 750 / 1000/ 2000 / 4000 / 6000 / 10,000m (dbar)
Initial accuracy
±0.05% full scale
Resolution
<0.001% full scale
Time constant
<0.01s
Typical Stability
~0.05%/year
Dissolved Oxygen (Oxyguard®)
Range
0 to 600%
Initial accuracy
±2% O2 saturation (5°C to 25°C)
Resolution
1% of saturation
Response Time
~10s, 90% step change at 20°C
Turbidity (Seapoint)
Light source
880nm
Time Constant
0.1s
Linearity
<2% deviation 0-750 FTU
Fluorescence (Seapoint)
Excitation
Various wavelengths
Time Constant
0.1s
Range
0.02μg/l to 150μg/l
Contact RBR for other sensor options.