*The standard product lead time is 3-6 weeks, depending on configuration.
Contact
RBR to learn more and ask about expedite delivery options.*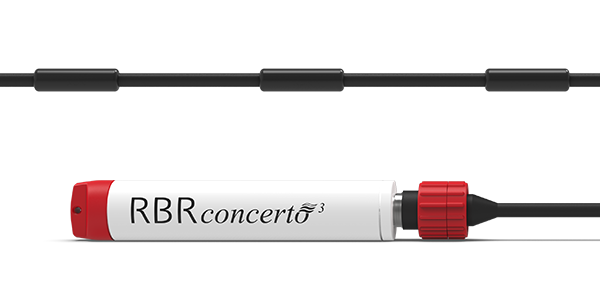 RBRconcerto³ Tx| Thermistor String
Thermistor strings configured to meet your measurement needs.
Sampling intervals as short as 3s
Up to 12 thermistor nodes with the RBRconcerto³ T12
Up to 24 thermistor nodes with the RBRconcerto³ T24
Large data storage and USB-C download
Download Datasheet
The RBR
concerto
³ Tx is a multi-node thermistor string offering flexible measurement schedules, sampling intervals as short as 3s, large memory, and optional realtime output. It also features ample power for extended deployments and USB-C download for large data sets. The RBR
concerto
³ Tx can be configured with 12 or 24 temperature nodes spaced to meet your custom measurement requirement over a maximum length of 400m.
Main Features
240M readings
12 or 24 thermistors
Long deployments
USB-C download
Up to 400m in length
The RBRconcerto³ Tx is designed to control and log an array of thermistor nodes on a long cable. The thermistor strings are made to order and may be up to 400m in length. The robust construction is designed for marine or freshwater applications, underground, or in concrete, permafrost, or ice. The thermistor strings may be used to a depth of 8000m and are calibrated to ±0.005°C against ITS-90 primary standards. The RBRconcerto³ Tx is easy to configure for the optimum sampling regime for your measurements. The large data storage capacity and fast download ability facilitate long deployments with higher sampling rates. For deep water applications the RBRconcerto³ Tx is available in a titanium housing. Dataset export to Matlab, Excel, OceanDataView®, or text files makes post processing with your own algorithms effortless.