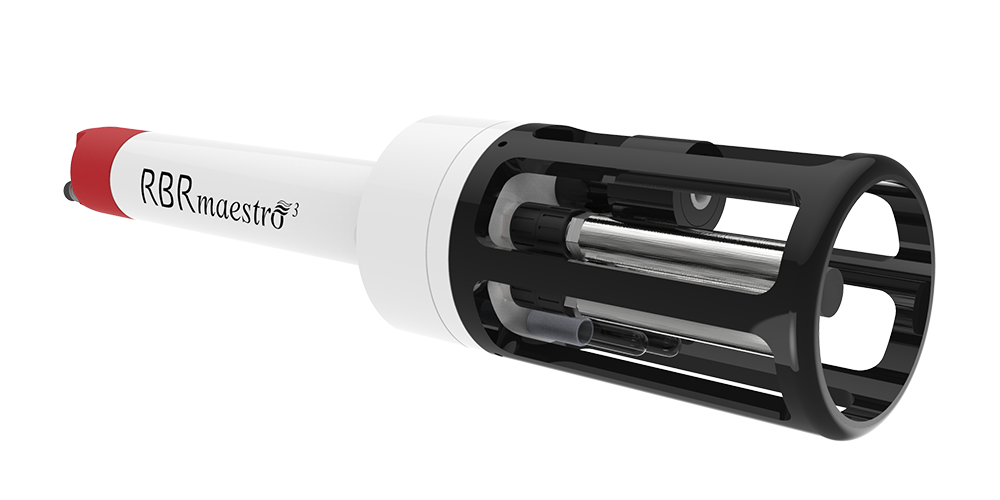 RBRmaestro³ | Multi-Channel Logger
Our most flexible, option-packed, multi-channel logger.
240M readings
Up to 16Hz sampling
USB-C download
Twist activation
Wi-Fi communication option
Supports 5 to 10 channel combinations
Realtime communication with USB, RS-232, or RS-485
Available Sensors:

Conductivity (C), Temperature (T), Pressure (D), Dissolved oxygen (DO), Optical dissolved oxygen (ODO), Photosynthetically active radiation (PAR), Radiometer (rad), Turbidity (Tu), Fluorescence (Fl), pH, Oxidation-reduction potential (ORP), Methane, Carbon dioxide, Transmittance, and Voltage
Download Datasheet
RBR's multi-parameter, multi-channel loggers are designed to provide you with the flexibility to select the right combination of sensors for your water quality measurements. The choice of up to ten sensors can be integrated with the logger. The loggers are available in two configurations: one for autonomous deployment and one for water column profiling. The recorders can be equipped with data and power connections to facilitate remote access or remote data acquisition. There are a number of different sensors that can be used with the recorders, for example: Conductivity, Temperature, Depth, pH, ORP (RedOx), Dissolved Oxygen, Fluorescence, Turbidity, Transmittance, PAR, and others.
Features
Submersible, autonomous 24-bit data logger
16Hz maximum sampling rate
240M readings
Up to ten sensors in custom configurations can be integrated
Sensors include, Conductivity, Temperature, Depth (Pressure), pH, ORP(RedOx), Dissolved Oxygen, Fluorescence, Turbidity, Transmittance, PAR, and many others in any combination
C, T, D and DO are measured to WOCE standards
All calibration constants are stored in the logger
Re-calibration of many sensors may be carried out by the end-user under suitable conditions
8 AA cells
USB-C download
Optional RS-232 or RS-485 serial communication allows realtime operation over long cable links using the Ruskin application
Mooring clamps and cages are optional and rugged transit cases are recommended
Deep and shallow water versions
Averaging
Thresholding capability (logger only samples while submerged or under specific conditions)
Features of the RBRmaestro³|fast (Profiling)
The |fast profiling version of the RBR
maestro
³ logger includes all of the above features, plus:
8 or 16Hz maximum sampling rate options
Optionally, a fast response dissolved oxygen sensor (Response: approximately 1 sec for 63% at 25°C)
Intermittent and continuous burst ability